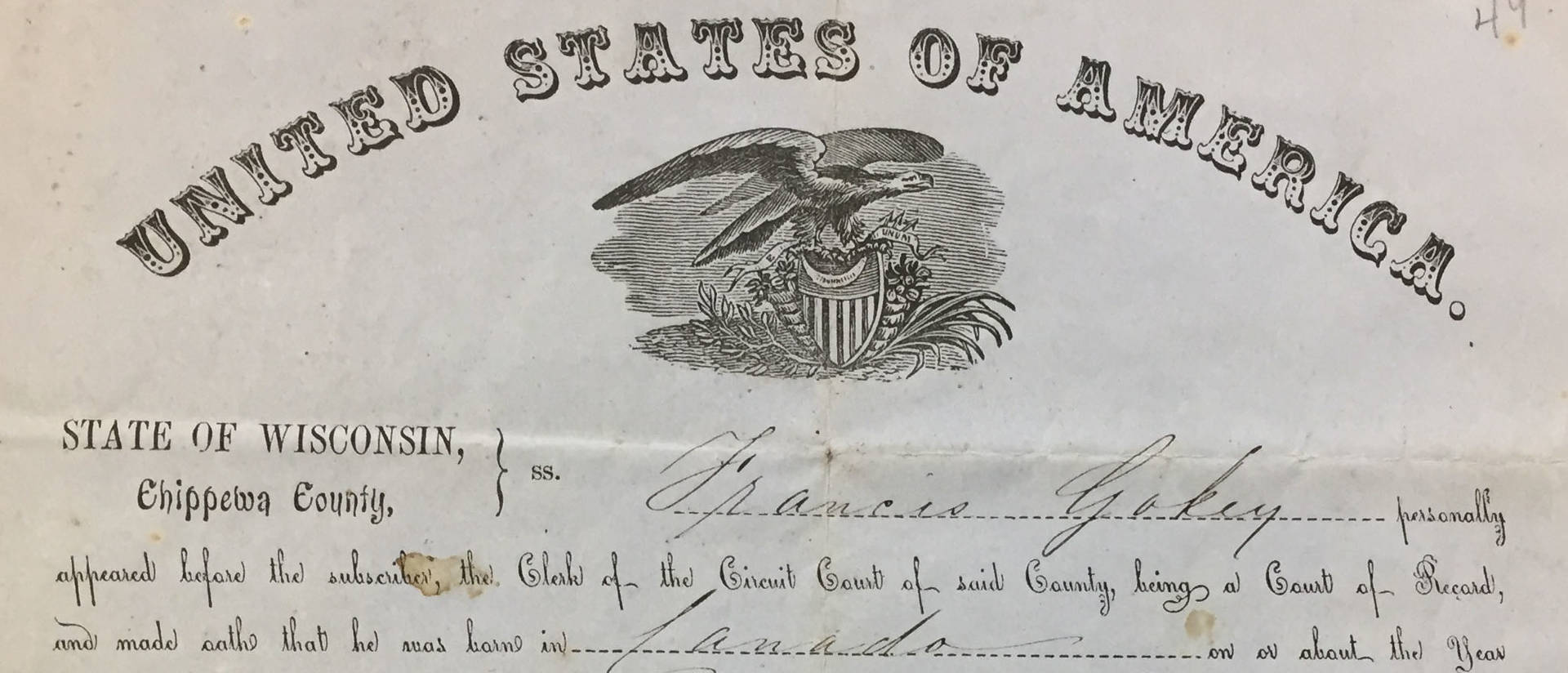 From the Special Collections + Archives
The Eau Claire Area Research Center (ARC) in the Special Collections Department of McIntyre Library includes both public records and manuscript collections for six counties of the Chippewa Valley.
The ARC houses county, municipal, and township records, including:
Pre-1907 vital records
State and federal censuses
Naturalization records
Circuit and county court case files
Probate records
Assessment and tax rolls
County board minutes
City council minutes
Bounty records
School records (censuses, school board, grade books)
Post-1907 vital records should be requested through the Wisconsin Department of Health and Family Services or the county register of deeds.
This chart provides information about some of our most requested local government records.
Buffalo
Chippewa
Clark
Eau Claire
Rusk
Taylor
Naturalization
Declarations
1853 - 1950
1850 - 1959
1907 - 1951
1854 - 1980
1901 - 1951
1875 - 1952
Petitions
1858 - 1950
1870 - 1963
1895 - 1954
1906 - 1991
1885 - 1954
1865 - 1955
Certificates
1907 - 1929
1871 - 1923
1907 - 1927
1857 - 1928
1885 - 1954
1877 - 1927
Probate
Cases
1854 - 1901
1860 - 1900
1873 - 1918
1856 - 1953
None
1878 - 1946
Circuit Court Cases
Criminal
None
1854 - 1918
None
1857 - 1970
1901 - 1917
1877 - 1925
Divorce
None
1854 - 1950
None
1857 - 1972
1901 - 1917
1877 - 1925; 1931 - 1934
Civil
None
1854 - 1951
None
1857 - 1970
1901 - 1917
1877 - 1925
Vital Records
Birth
1852 - 1907
1852 - 1907
1852 - 1907
1852 - 1907
1852 - 1907
1852 - 1907
Marriage
1860 - 1907
1869 - 1907
1858 - 1907
1864 - 1907
1901 - 1907
1875 - 1907
Death
1874 - 1907
None
1879 - 1907
1876 - 1907
1901 - 1907
1877 - 1907
Population Censuses
Federal
1860 - 1930
1850 - 1930
1860 - 1930
1860 - 1930
1910 - 1930
1880 - 1930
Wisconsin
1855 - 1905
1855 - 1905
1855 - 1905
1875 - 1905
1905
1875 - 1905
Property Tax Records
Assessment Rolls
1858 - 1906
None
1859, 1861, 1870
1855 - 1879
None
None
Tax Rolls
1856 - 1870
None
1861 - 1975
1864 - 1890, 1965, 1970, 1975, 1998
1901 - 1904, 1930, 1940, 1950, 1980
None
Land Records
Deeds
1854 - 1887
1854 - 1888
None
1856 - 1886
None
1872 - 1929
Grantor/Grantee
1854 - 1892
1856 - 1885
None
1856 - 1889
None
1875 - 1899